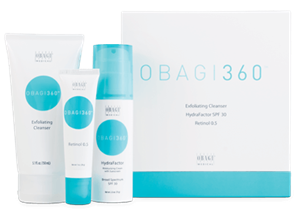 Obagi 360
Obagi360 Skincare System - Houston, TX
---
Are you looking for a skincare line that you can rely on and one that gives you the results you desire? We are excited to offer our patients the Obagi360 System. This system will help prevent signs of aging, while keeping the skin clean and giving it a natural glow. The Obagi 360 System includes – Exfoliating Cleanser, Retinol .5% and HydraFactor Broad Spectrum SPF 30.
Find out which Obagi product is right for you by using the Personal Product Finder.
Contact us if you have questions about Obagi or if you are trying to decide which skinecare product is right for you - (832)-410-8570.