At MyBodyMD Plastic Surgery, we are here to listen to your concerns about the way you look, and this includes talking about breast ptosis (sagging). The breasts will naturally change over time, the skin will lose elasticity, the firmness and youthful shape will decline, and you may lose the perkiness you enjoyed in your youth. Our board-certified plastic surgeon, Dr. Rafi Bidros, provides adult women of all ages private breast lift consultations to address their presenting issues with their breasts. A breast lift will reposition and firm the breasts by removing excess skin and tightening the surrounding tissue. To craft the patient's ideal outcome, Dr. Bidros utilizes specialized Galatea® surgical scaffolds during surgery. The scaffold provides extra support for the soft tissue, which helps patients avoid complications and maintain long-lasting results. This procedure can also be combined with other plastic surgeries, such as breast augmentation, breast lift, tummy tuck, and more. If you would like to learn more about how a breast lift can rejuvenate your figure, please call and schedule a consultation.
Breast Lift Reviews
"From the moment I walk through the door I felt comfortable Dr Bidros and his staff was welcoming and considered. They took the time to answer all of my questions and did not leave the room until they were sure all of my questions were answered. I went to Dr. Bidros because I was scheduled to have a lumpectomy and needed his expertise to reconstruct my breast and I was also grateful to get a breast lift as well needless to say myself and husband as well as my family are very pleased with the results. Even the nurses at the hospital were amazed at the end results. Dr Bidros is my go to Plastic Surgeon Dr. He is a household name in Katy T.X. Thank you so very Much."
- C.J. /
Google /
Sep 23, 2017
"If there is more than 5 star, I would be giving it to Dr. Rafi Bidros, as a no brainer. I was diagnosed with breast cancer and Dr. Bidros did a breast reduction and a breast lift..I look like a 20 year old girl now, thanks to Dr. Bidros. He walked me through what will happen in the surgery in details. He made lots of follow ups after the surgery. He made me feel that I'm his only and most important patient he has. Dr. Bidros, is definitely the best plastic surgeon not only in Texas but just as well as across the United States! I just can't say enough about him...As for his wonderful team, they are so courteous and so professional especially Mandy and Jackie, they both sent me a welcome card by mail ! Mandy, given me a full package with what I would need before and after the surgery with. She left no question for me to ask..I didn't need to buy anything else more than what Dr. Bidros prescribed. If you are looking for the top and best Plastic Surgeon, definitely go with Dr. Rafi Bidros."
- A.H. /
Google /
Mar 28, 2017
"Amazing results and a great experience. Dr. Bidros and his team were always helpful and I would definitely recommend them. I had a breast lift aug / tummy tuck."
- B.D. /
Google /
Aug 24, 2022
"Amazing results and a great experience. Dr. Bidros and his team were always helpful and I would definitely recommend them. I had a breast lift aug / tummy tuck."
- B.D. /
Google /
Sep 03, 2022
"Our sweet patient, Hillary delivered these beautiful flowers. They brightened our day!"
- HH /
Office Visit /
Sep 24, 2018
Previous
Next
What Are the Benefits of a Breast Lift Procedure?
Breast lift surgery is an ideal choice for women looking to obtain a fuller look to their chest. A customized mastopexy procedure performed by Dr. Bidros at his Houston, TX office includes the following benefits:
Enhancing breast firmness and fullness
Firming skin for a smoother look
Revising drooping and sagging
Amending breast asymmetry
Adjusting the areolas and position of the nipples
Minimizing irritation under the breasts
Who is an ideal candidate for a breast lift?
A breast lift is a good option if you:
Are in good health
Are maintaining a stable weight
Do not smoke
Have realistic expectations for what plastic surgery can do
Have breasts that hang or sag, have lost shape and volume
Have elongated-shaped breasts and nipples that point down when you are not wearing a bra
Have stretch marks on your skin and/or enlarged areolas
Have asymmetrical breasts (one breast is lower than the other)
How does a breast lift work?
Your breast lift surgery can be achieved through a variety of incision patterns and techniques.
The appropriate technique for you will be determined based on breast size and shape, the size and position of your areolas, the degree of breast sagging, and your skin quality and elasticity, as well as the amount of extra skin. Some incision lines resulting from a breast lift are concealed in the natural breast contours; however, others are visible on the breast surface. There are three common incision patterns:
Around the perimeter of the areola
Around the areola and vertically down from the areola to the breast crease
Around the areola, vertically down from the breast crease, and horizontally along the breast crease
Dr. Bidros will make the needed incisions, and then the underlying breast tissue is lifted and reshaped to improve breast contour and firmness. Afterward, the nipple and areola are repositioned to a natural, more youthful position. If necessary, enlarged areolas are reduced by excising skin at the perimeter to compensate for a loss of elasticity. Dr. Bidros will then layer sutures deep within the breast tissue to create support for the newly shaped breasts. Finally, Dr. Bidros will utilize the Galatea surgical scaffold, which is composed of a bioabsorbable material that supports the tissue and strengthens any existing weaknesses. This helps ensure the best possible outcome. Sutures, skin adhesives, and/or surgical tape may be used to close the skin.
What are different Incision Placements for a breast lift?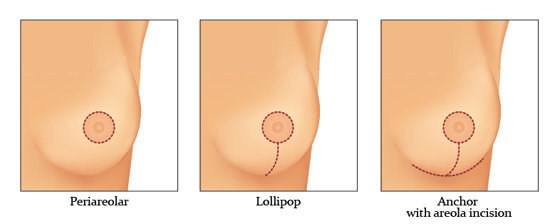 What can I expect During/After a breast lift?
Dr. Bidros prefers to perform the breast lift procedure under general anesthesia. After your breast lift procedure is completed, dressings or bandages will be applied to the incisions. You'll need to wear an elastic bandage or a support bra to minimize swelling and support your breasts as they heal. A small, thin tube may be temporarily placed under the skin to drain any excess blood or fluid that may collect. The results of your breast lift surgery are immediately visible. Over time, post-surgical swelling will resolve, and the incision lines will fade significantly. Satisfaction with your new image should continue to grow as you recover and realize the fulfillment of your goal for breasts that have been restored to a more youthful and uplifted position.
Plan Your Procedure
Average Cost

$9,500

-

$13,900
Contact Us
Will my breast lift results change after pregnancy?
It is a personal preference, but you can have a breast lift before having children. There are a few things you should consider prior to making your decision – you may require a secondary lift after having children and your ability to breastfeed may be affected by the breast lift incisions.
Can I combine a breast implant with a breast lift?
Yes, combining a breast lift with implants is very common. Dr. Bidros performs the breast lift with an implant as part of his Mommy Makeover package. Due to weight fluctuations or breastfeeding, your breasts lose elasticity and volume, causing them to sag or lose their shape. Dr. Bidros may suggest a breast augmentation to restore the lost volume by implanting a saline or silicone breast implant. Fat grafting (fat transfer) is also another option. Dr. Bidros will give you his recommendation during your personal consultation.
What incision placement is used during a breast lift?
Dr. Bidros will determine your incision placement after a thorough examination during your consultation. He will examine your breast ptosis (sagging), which will determine your incision placement. Breast lift incision placement options include: around your areolas, around your areolas with a vertical incision down your breast, or around your areolas with incision vertically down your breast and horizontally along your natural breast crease. If Dr. Bidros suggests a specific breast lift incision, but you decide against it to avoid vertical incision, this would leave too much tension on the areola incision. This can lead to widening of the scar. Incision lines are permanent but will fade over time.
If I want more children in the future, should I wait to receive a breast lift?
It will be a personal preference, but you can have the breast lift before children. There are a few things you should consider prior to making your decision - you may require a secondary lift having children and your ability to breastfeed may be affected by the breast lift incisions.
Healthier-Looking Breasts
Mastopexy has transformed the lives of so many Houston, TX patients. If you are faced with drooping breasts that get in the way of everyday activities or prohibit you from buying the clothes you want, a mastopexy at MyBodyMD may be the answer to your problems. During your first private one-on-one consultation, a thorough physical exam will be performed by Dr. Bidros, and your aesthetic concerns will be discussed. We will customize a tailored plan for treatment to assist in transforming your breasts. We encourage you to contact our facility and learn more about how to begin your cosmetic surgery journey.