Breast Augmentation – No-Touch Technique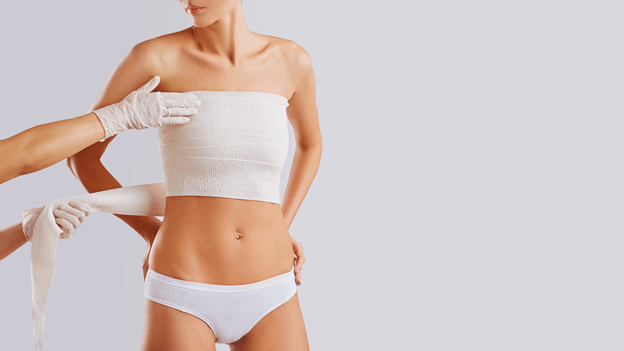 Breast augmentation surgeries are a leading cosmetic procedure that help many women achieve their desired aesthetic. A customized treatment plan is carefully crafted by our board-certified plastic surgeon Dr. Rafi Bidros. The goal is to increase the fullness of the breast in relation to the patient's natural proportions and enhance self-confidence. Some of the common concerns expressed by women who opt for breast augmentation are due to the breasts being small and underdeveloped, assymetric, post-pregnancy and breastfeeding changes, and more.
During your consultation Dr. Rafi Bidros will discuss the best option to achieve your desired look, which is why it is crucial to be honest and open. Fuller breasts can be achieved with saline implants, silicone implants or a fat transfer. Saline implants are filled with sterile salt water and the amount of solution will vary based on the patient. Silicone implants are filled with elastic gel that feels and moves similar to the natural breast tissue. Fat transfers are growing in popularity and is a technique where fat is harvested from one part of the body (tummy, buttocks) and transferred into the breasts. 
Each patient's treatment plan will go in depth on all steps of breast augmentation including incision types. Incisions vary based on the type of implant (saline, silicone, or fat transfer), implant size, your aesthetic preference and anatomy. The incisions can be: inframammary (under the breast), periareolar (around the perimeter of the areola), transaxillary (within the creases of the underarm) and the No-Touch Technique also known as the Keller Funnel.
The Keller Funnel is an innovative technique that is incorporated by Dr. Bidros during gel breast augmentations. It allows to decrease the risk of infection and bruising of the breasts. Dr. Bidros is able to make a smaller incision which reduces the risk of capsular contracture and most of our patients have a decreased downtime during recovery. The No-Touch Technique accommodates a variety of breast implants and sizes and has seen great success. Dr. Bidros will discuss this option with you during your personal consultation, but for more information visit Keller Funnel. 
Our goal at MyBodyMD Plastic Surgery is to educate our patients to help them make an informed decision. Dr. Rafi Bidros is well trained on the latest techniques and will provide you with a positive and safe surgery experience. For more information on breast augmentation, book your consultation now.